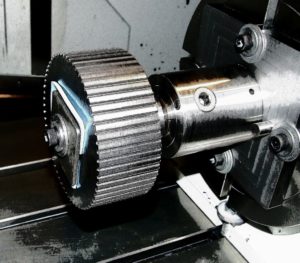 4th Axis machining involves using  an indexing head that works in conjunction with a 3 Axis CNC mill.  The 4th Axis is mounted into the CNC mill to be used for advanced machining operations. 
The 4th Axis gives the mill an A-Axis that allows the operator to machine multiple sides of a part without having to stop to rotate or readjust the work piece.
Pro-Cam Services LLC. has three mills with either 4th axis or rotary machining capabilities. The 4th-axis and rotary capabilities ensure Pro-Cam Services LLC. can efficiently process and quickly machine; angled holes, gears, sprockets, rollers, spanner flats on a bolt, cut straight lines at any angle, drill equidistant holes on a circular flange and much more!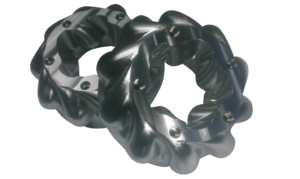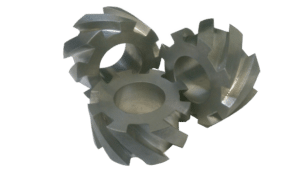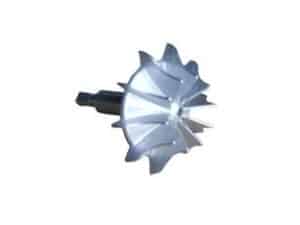 Pro-Cam Services LLC. has true continues 4th-axis machining capabilities…There are a few advantages to Continuous Machining.  First, you can machine shapes that would otherwise be impossible or very difficult.  The closest thing possible without continuous machining would be to index as many positions as possible and use 3D contouring toolpaths to try to get the job done.  This can be surprisingly effective, but is seldom as powerful as true Continuous Machining. Another advantage to Continuous Machining comes when profiling with a ballnose cutter.  The ballnose has a weakness, which is that the closer you get to the tip, the slower the flutes are spinning.  It sounds counter-intuitive, but just think of that tip as a series of concentric circles at different heights.  The ones near the tip are smaller circles, their circumference is shorter, yet they're spinning at exactly the same rpm as the bigger circles up higher.  Hence, the tip moves slower.  Conceptually, the exact tip isn't really moving at all as it is a circle with zero radius.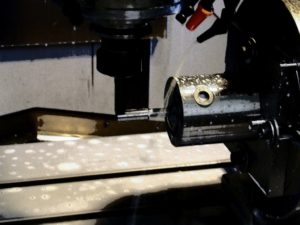 Spline machined on the 4th-axis @ Pro-Cam Services LLC.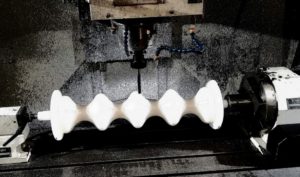 Large UHMW roller machined on the 4th-axis @ Pro-Cam Services LLC.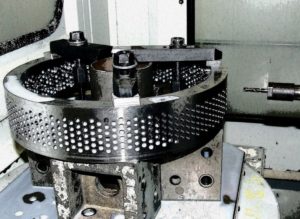 Over 1,000 holes drilled in one operation on the rotary table @ Pro-Cam Services LLC.